Some degree of aging can be expected as we get older. Fine lines or wrinkles, sagging cheeks, and shrinking lips are just some of the ways volume loss can affect our appearance. With volume loss, it's as though our face is losing its necessary support, causing our features to droop and sag. Fortunately, there are many advanced cosmetic treatments that can add more volume to your skin to restore a more youthful appearance.
What is Volume Loss?
Facial volume loss is caused by a lack of facial support due to the natural loss of fat layers and collagen in the skin over time. When the face loses volume, the skin can begin to show fine lines and wrinkles due to diminished collagen and reduction in facial fat. This may cause a hollowness under the eyes, a flattened look to the cheeks, sunken temples, and reduced lip size.
Additionally, there can be increased skin laxity causing loose skin around the jawline or jowls. To make matters worse, vertical lines may appear on the lips, around the nose, and down from the corners of the mouth, which are known as oral commissures. Volume loss can also make the skin appear drier, thinner, and less firm and vibrant.
The main areas of facial volume loss include:
Under the eyes
Lips
Cheeks
Jaw
Forehead
Temples
What Causes Volume Loss?
Aging is the number one culprit in facial volume loss. When we age, our bodies begin to lose their supply of essential collagen and elastin, two proteins that help maintain our skin's firmness and hydration. Once these vital compounds begin to decrease, we experience skin that is tired-looking, dry, and saggy. There are a number of other factors that can contribute to a loss of facial volume and the breakdown of elastin and collagen, including:
Lifestyle
Stress
Heredity
Sun exposure
Weight loss
Smoking
Certain Medications
When does facial volume loss begin to occur?
When exactly facial volume loss occurs can vary, but generally, it begins once a person enters their 20's. While volume loss is gradual, facial definition can be lost in such facial areas such as the temples, lips, forehead, jawline, cheeks, and eye sockets.
What is a facial filler procedure like?
The treatment times for dermal fillers can vary from 10 to 30 minutes, depending on the treatment area. Two of the main benefits of a dermal filler treatment is that all procedures can be done in the office and there is no anesthesia needed. Pain is minimal and we make every effort to make sure the treatment is as comfortable as possible. There is no downtime and you are free to resume your daily activities, however, we advise patients to avoid exercise for 24 hours. Side effects like bruising and/or swelling can occur, but these only last a few days.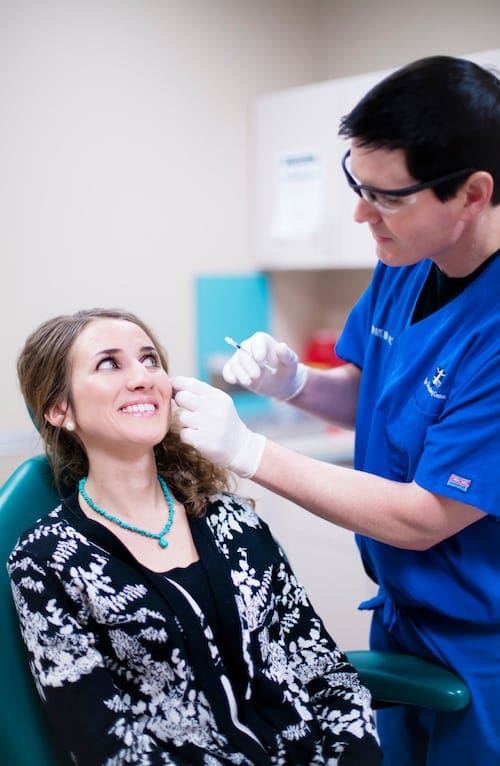 The Solution for Sagging Skin
Our skin specialists at The Dermatology Center have an array of cutting-edge cosmetic tools to help improve the fine lines, wrinkles, and volume loss caused by aging or other factors. While in the past, plastic surgery was needed to lift, tone, and tighten the skin, thankfully, innovations in non-surgical techniques like dermal fillers offer patients anti-aging alternatives that provide beautiful results without the downtime a surgical treatment would typically require. Though fillers aren't permanent, they do offer long-lasting, natural-looking results that can last from six months to a year, if not more in some rare cases.
Dermal fillers can be used to improve lost volume and reshape specific elements of the face to achieve desired results. In addition to augmenting and sculpting the face, some dermal injectables are formulated to boost the skin's ability to produce collagen and elastin, helping improve the long-term effects of aging.
Restylane® is a cosmetic dermal filler made of hyaluronic acid, a naturally occurring bodily substance that provides the skin with fullness and volume. It is the world's most used and studied dermal filler. Restylane® restores contours to the skin by smoothing away facial wrinkles and folds like the lines from your nose to the corners of your mouth. The three dimensional hyaluronic acid molecules in Restylane® allow them to bind many times their own weight in water and as the hyaluronic acid begins to diminish, each molecule can bind to more water which helps maintain the effects of the treatment for about six months.
Over time, the natural fat that surrounds the cheeks begins to deteriorate, resulting in sagging skin, more prominent wrinkles and a reduction of volume. Restylane Lyft™, formerly known as Perlane-L®, is an injectable hyaluronic acid gel used to correct volume loss and treat wrinkles in the face. Through nonsurgical injections, Restylane Lyft™ is specifically designed to add fullness to the cheeks and mid-face area, which can result in a more natural-looking, youthful appearance.
JUVÉDERM VOLUMA® XC injectable gel is for deep injection in the cheek area to correct age-related volume loss in adults over 21. JUVÉDERM VOLLURE™ XC injectable gel is for injection into the facial tissue for the correction of moderate to severe facial wrinkles and folds (such as nasolabial folds) in adults over 21. JUVÉDERM® XC injectable gel is for injection into the facial tissue for the correction of moderate to severe facial wrinkles and folds (such as nasolabial folds). JUVÉDERM® Ultra XC is for injection into the lips and perioral area for lip augmentation in adults over the age of 21. JUVÉDERM VOLBELLA® XC injectable gel is for injection into the lips for lip augmentation and for correction of perioral lines in adults over the age of 21.